Although we love screen printing we refuse to draw the line there. With seven in-house embroidery machines and a vast array of colorful threads we offer an affordable branding option with an optimal turn around time.
Embroidery is an excellent substitute for things that can't or shouldn't be screen printed.
How it works: we digitize your design, guide you through selecting the best thread color, and embroider you a masterpiece.
A talent of ours is to stitch anything that fits under our machines – so that means hats, jackets, backpacks, Christmas stockings, and whatever else you think of!
Need to know more? Here are the answers to the questions we get asked the most.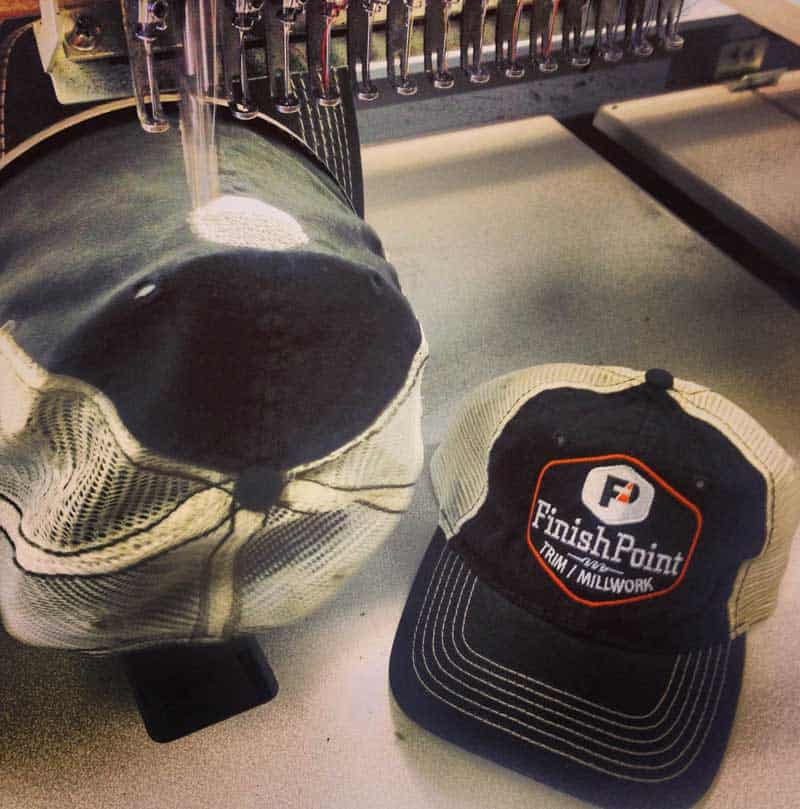 Our minimum order quantity for custom embroidery is 6 pieces – based on each individual job setup. Orders requesting fewer than standard minimums require special consideration.
Our standard turn around time for embroidery is 10-12 business days. Please note that production time begins after receipt of order AND artwork approval.
Orders CAN NOT go into production without prior artwork approval. Please keep this in mind if there are defined due dates for your order, as rush charges may be incurred. Any job requiring production in less than our standard turn around is considered a RUSH ORDER and is subject to production schedule availability.
Our artists and digitizers select the thread that most closely matches the assigned Pantone color. If no PMS color is called out in the art file, we match the screen image as closely as possible.
We also have thread books available. If you are able to stop in, you can reference a thread chart and select the thread you would like to use.
There are a number of steps that go into creating a beautiful embroidery piece. The process is as follows:
REVIEW ART SUBMISSION
First we review the art looking for fine detail, gradients and small lettering that may not translate well. We make a recommendation or give you options if your logo will not embroider well on a particular garment.
DIGITIZING
Next step is digitizing, the process by which we translate digital art files into stitches. The first part of the process is a virtual drawing that maps the stitches we use to embroider the final logo. This is done using specialized software.
SEW OUT
Then we create an actual sample sew out for client approval. Any final tweaks or adjustments are made at this time.
HOOPING
Next, we use an embroidery hoop – a plastic ring that snaps around the area of the garment to be sewn. This hoop is affixed to a head on the embroidery machine to stabilize the garment as the needle sews the fabric.
TRIMMING
Finally, once the garments are sewn, we remove the excess backing from the embroidered design. Sometimes a tear-away backing is used, and will be pulled off. Other times the backing must be cut, or trimmed, from the back of the garment. This step in the process is referred to as trimming no matter which method is used.